A Walk in the Woods
July 14, 2014
A fiery autumn tapestry
Mantles the ground in fallen leaves.
Above, a crimson canopy
Drapes the trees in scarlet weave.

Up in the branches squirrels chatter,
Their bushy tails streaming out,
Hunting for acorns and nuts to gather,
Busy with their scampering about.

From the woods deer shyly stare,
Ready to flee at the slightest sound.
To step towards me they do not dare,
So turning swiftly, away they bound.

The wind now carries a chilly touch –
Winter means to make her presence known.
Alas, the cold for me is far too much,
And with regret, I wend my way home.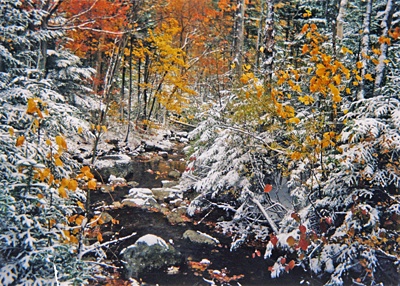 © Eric E., Lexington, MA