Sadness to Sunrise
April 22, 2014
Looking out at the stormy sea,
the wind throws harsh blows against your face,
as tears burn your skin by trickling out of your dark eyes.

Those eyes...

They used to be bright. So bright, and full of sparkling delight.

You miss it. How they used to be...how YOU used to be.

Many times you've tried-tried to get out of this cage of sadness
holding you in.

Suddenly, you find, that what you need to do
is want it.
You need to crave the joy that you once had in the palms of your hands. If only you hadn't of thrown it away
in your depression and misery.

But, wait! It's not over!You can go and pick up your shinning
joy!
Yes, it may be stained slightly by tears, but nothing that won't wash out.

Looking out beyond the stormy sea, you see a sunrise!
A beautiful one, not like any other one you have ever seen!

With gentle golden clouds and pink soft streaks floating and
swirling in the early morning sky it was amazing...and the wind had swept into a serene breeze which smelled of spring and would whisper funny little songs into your ear.

Just like happiness.

The happiness that you could have.

That you will have.

The darkness is faded from your eyes and is replaced by shimmering
joy.

The world has awoke
started a new day
and so have you.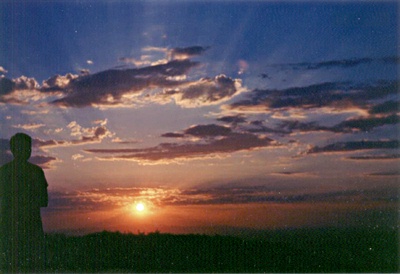 © Jovee B., Dededo, Guam