Rain on the Farm
January 25, 2014
The rain wrestles with the concrete and dirt,
Creating a wake in the gutter, claiming victory.
The winds writhes in a heated toil,
Blowing leafy prisoners away in a muddy sea.

The old barn moans protest, bending to the storm's will,
as apples jive in the wind like dancers in a chorus.
Candles croon melodies beside the desolate windowsill
awaiting the relief of October's musky breath.

The animals cower weakly from the wind's austere gaze,
Huddling in safety while looking on in awe.
They sway uneasy in a frightened haze,
As rain bombards the roof, enforcing his iron law.

I am inside, in a fortress of covers,
My skin as gray as the cloud's dreary face.
I cling to my sweater, like honeymooning lovers,
And fearfully count as the storm passes over.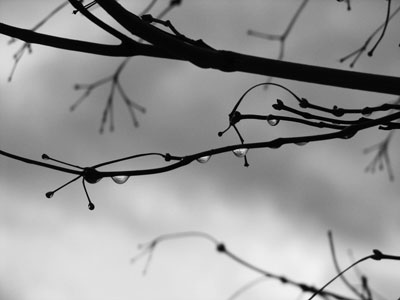 © Carly M., Hopedale, MA