Who's gonna call on Sunday morning
December 5, 2013
The gray light filters cold through the blinds.
You look old,
my dear.
Keep sleeping off last night's debt;
you sold
your consciousness and your pale blue eyes
to midnight ignorance
and a few hours of freedom.
A few hours of feeling strong but yeah that doesn't last long,
and by the time the gray light filters cold through the blinds
your bold laugh has died away;
all I hear is your fragile breathing.
I'll stay barefoot this morning and I'll wash your plastic tumblers again,
toes curling on the cold tile and fingers growing old under the faucet.
I'll hum the song you were singing last night and remind myself to
tell you about
your lovely cracking voice.
It says that you're happy but your hands were so cold
and your face somehow too old
and your eyes whispering no,
there's never been a choice.

I hear you, I see it.
But hear this: I don't believe it.
Still, I'll be the one to laugh at your jokes and dissolve in the smoke,
to hold your fragile wrists together and keep your skull intact.
It's only half an act.
The other half is me watching your chest rise and fall in the cold gray light,
wondering at your heartbeat,
so bold.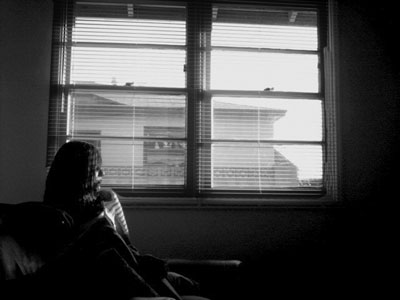 © Roxana R., Tustin, CA