The Lie
November 25, 2013
If words can never hurt me then why do they
They cut my wrist
Like a sharp blade
Pierce my heart with searing pain
As tear flow down my face

You lie when you say the can't hurt me because they do.
The hurt more than stubbing your big toe
Worse than a new piercing.

But why
So the bully can bully
So the weak grow weaker
Or so that the innocent die

It hangs from the ceiling fan
I steps off the chair
Step it down and presses record

Tears flow down my face as I begins to speak
"Why. why did you lie. words hurt. Word hurt worse than anything i can fathom. Worst than Warm Water Burning your Boiling Skin as you Sit on the Slipper Shower floor and let tears Flow down Your Frowning Face
I used to wonder why people died. and now i know why. because people lie. and say that words Could never hurt me. but they do"

I stands up on the chair and put it around my neck
Tears flowing down my face and I stare at the camera
"Sticks and stone may break my bones but words will never hurt me"
My feet slide off the chair
My chest lays flat

The clock has stopped
As I continues to stare at the camera with a blank face
And all of a sudden
A single tear flows down my face

Sticks and stone won't break your bone but words will always hurt you.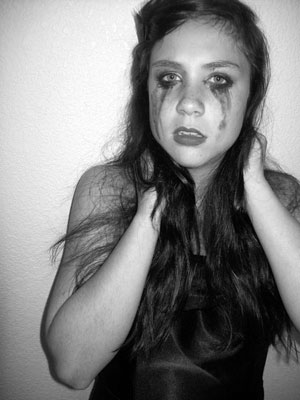 © Tiana D., Monument, CO