Beautiful Militant
October 9, 2008
Beautiful Militant
When she walked into the room,
Her eyes spelled out my doom.
But I don't care what way I go,
As long as she kills me slow,
So I can see her eyes when I die.
Oh, I don't know why she has to seem,
So wonderful to me.
If they knew,
How much I let her,
Beat me black and blue.
I'm such a masochist,
But every pain,
Secretly fills me with bliss.
And if I must be slain,
To gain her love...
She fits me like a glove,
Though they all think I'm crazy,
They don't understand that,
She's more than attractive angry,
She's beautiful militant.
Not heaven sent,
But she may be a fallen angel,
Oh what a tangle.
I don't want to die,
But I won't lie,
She's so beautiful being cruel,
Gorgeous lethal,
Don't know her deal,
Just know this twisted love...
Why couldn't I have fallen,
For a peaceful dove?
So Amazonian,
Dark cold eyes,
Red mouth, tongue spelling out lies.
I won't survive,
I didn't mean to dive,
Into this,
What terrible bliss.
She bites me 'til I bleed,
When we kiss,
She always takes the lead.
It doesn't seem worth it,
When she's not there,
Oh, but when she is, the room is lit.
Can't tell her how much I care,
Beautiful militant,
Love her as much as you dare.
-Penname Maia Lake. HER WORK.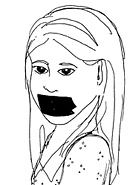 © Liza M., Vineland, NJ