I hated Her
June 20, 2013
Growing up everyone has a first love
You dream of them every night
Their smile and warmth
Consuming every bit of passion you have within your soul
My first love just happened to be myself
At first I hated her
I hated that cold expression
the way she treated our friends
All of her bitterness sucking the oxygen from the room
She was a black hole of despair
I hated Her face in the mirror everyday
Why did look so much like me?
She was so unhappy
My reflection used to smile at me
Now all she did was spew hate speech
Until one day she offered a deal
"Make a sacrifice to me
And I'll love you"
I denied of course
I hated her
But she kept asking
And begging
And pleading
Until her words and mine were one in the same
"What do you want?" I screamed
but all she did was grin
A grain sacrifice she hissed
And I gave it to her
Everyday I gave her more and more
Until there was barely any for me
I asked her what she wanted with my food
and she just smiled
She smiled and then I knew
She wanted me to starve
The days went by and I kept sacrificing
She had become my idol
A false god that I worshiped
Every inch I lost
Was a smile I gained
An "I love you" hissed from a serpent
But I worshiped this graven image
I loved her so much
She was my drug
She gave control
When my world crumbled
She gave me the glue
But it was cheaply made
And I kept asking for more
Until the pieces no longer held together
Until that night when I held the metal tight in my hand
And the blood fell from my face
And she smiled
That wicked smile
That false god smiled at my pain
She only loved my suffering
I was used and abused by my self-hatred
There were days
When I felt my bones
Screaming out for salvation
But I ignored their call
I didn't want to be saved
I couldn't bare being free!
I had control
When everything around me
Became a whirlwind of uncertainty
I was certain that I was right
My pride was an addiction
With every high I got
I shattered
falling into deeper depths of disturbed delight
And when I broke
I rebuilt myself
To shatter again
But no more!
I melted that golden calf
And ate the bitterness of my stupidity
With the shedding of blood
I was forgiven for my sins
My temple was destroyed
And a new one rebuilt
My veil of deceit has been torn
And I can love more than just me.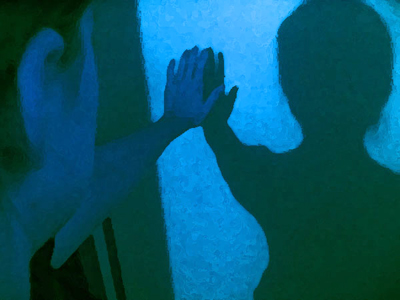 © Katie C., Libertyville, IA