Heartbreak
May 22, 2013
He said,

"I'd make you mine—
if you weren't impossible."
He's got me feelin'
Like I'm

unstoppable.
He tells me I'm
beautiful,

amazing,

fantastic,

wonderful,


out of the blue…
and all I can think to say back is

"… Thank you."
I've broken his heart a thousand times already.
But he's fixed his heart,

And made himself ready.
He's always prepared for one more heartbreak.

And I'm playin' like I don't care.—


But inside,


I ache.
When I wake up in the morning,
and every night before I go to sleep,
he says,

"I love you,"
And I say it back, all along knowing he thinks,
it's not true.
But it is.
Because every time we talk,
I get – lost –
in his sweetness,
so caught up in the moment,
that I forget


the mess.
Now,

I'm afraid,
I haven't broken the habit.
We flirt,
We fall,
We fight,
It ends with heartbreak, when he hands over his heart
and I grab it.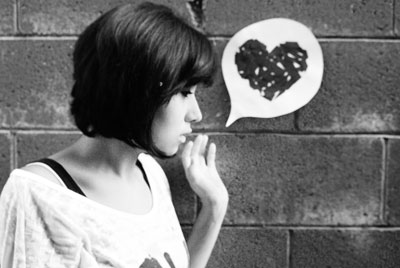 © Michelle B., West Covina, CA