Confessions of a Broken Poet
May 22, 2013
Pen to paper,
Writing my heart out,
The ink bleeding through the page,
Like the blood from my aching heart,
My breaking heart,
You fixed my heart,
And hey,
I hate your heart.
You ate my heart,
Tore it apart,
And left a scar.
This poem makes no sense,
But neither do you,
And neither do I.
My brain is a jumbled mess,
I can't get my words straight,
They're all crooked,
Uneven,
Disorganized,
This chaos called my thoughts.
I thought you said you loved me,
But I was probably just daydreaming,
Like every other time you were there for me,
You cared for me,
Fool me once,
Shame on me,
Fool me twice,
Still by bad,
I can't keep passing on the blame,
Like a game of telephone,
One person to the next.
Like rumors being spread.
Yeah, I heard the stuff you said.
When are you coming home?
Oh, wait, I forgot.
You're not.
You're as gone from my life as my dead grandmother,
Only this time I cry no tears,
Except for the ones I leave on my pillow every night,
Like candies at a fancy hotel,
But these aren't sweet,
They're bitter,
Bittersweet,
Like our love.
That love I made up.
Hey, you can't blame me,
I'm a writer,
That's what we do,
Make things up,
Imagine,
Envision,
Create…
And get easily distracted…
I had meant for this to be a romantic poem,
But I had an epiphany,
There is no romance between you and me.
I don't know what I was thinking.
I guess I'm going crazy,
But now that I think about it,
I always have been,
Totally insane,
According to Alice,
That's a good thing,
So f*** you and your negativity,
I got storybook characters to back my case.
You sure as hell never did.
I don't need you,
Your masculinity,
In fact,
Maybe I don't need masculinity at all.
Maybe I'm into girls.
Just a thought,
Knowing you,
You probably think that's hot.
Well, on that awkward note,
I'm closing this notebook,
Because you're not worth my time,
Or ink,
And I'm killing trees.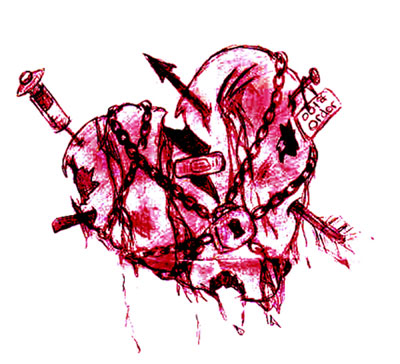 © Asia B., Hudson, MA