A Letter From the Sun
May 22, 2013
Through December's haze, I find it hard to see your face,
But I know your sad.
These winter months bring you down, don't they?
Twelve weeks out of the year, you can't feel my touch.
But don't worry, child.
I'll be back soon enough.
Come March, I'll come march right back into your life,
And everything will be alright.
I know I've got a crazy schedule.
I don't like my hours either.
But this is the way it must be,
I wish I could make you see,
The tears that I cry when you're outta reach,
Are the stars that fall when I settle into the hills to rest.
Goodnight Sweet One.
I'd like to kiss your cheek pink,
But the clock says it's time to leave.
Little Girl, I love you, and I know you love me.
I would love to spend every second with you,
But I share visitation with the sun and the moon.
The Judge is on my side, but the jury can't decide,
So for now, we have to settle for only spending the summer together,
But I swear we'll meet in heaven,
And I'll wrap you in a warm embrace.
I'll never leave your side.
So stay strong until then, always look to the bright side,
And someday the cold will give way to my glowing rays,
And you can take off your coat,
And shed your depression,
Because I'll keep you safe and warm,
When heaven comes.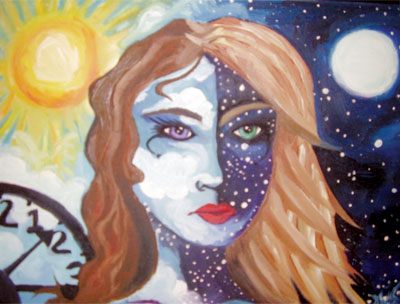 © Amanda S., Attleboro, MA