The Little Jello Box
April 22, 2013
Once upon a time,
Down far is aisle six,
There lived a little box
Of orange gelatin mix.
He always waited snugly,
Standing on the shelf,
"Someday someone will buy me,"
He often told himself.
Then suddenly one day,
A cold on in December,
The little jello box
Went on an adventure!
He was so tired of waiting
Still and patiently,
That he traveled through the store
To see what he could see.
He ventured through the fruit stand,
But further on he went,
To the checkout aisle
Where he saw what people spent.
Next he saw the bagels,
The Danishes and tarts,
But then the jello slipped!
And fell into a cart.
"Oh my!" The jello screamed,
Frightened and surprised,
Yet as the cart began to move
He slowly realized...
The little jello box!
He was going to be bought!
"I wonder if the shopper'll like me,"
He curiously thought.
Eagerly he watched
As the other items were scanned.
"How'd this get in here?"
Questioned the voice of a man.
Quickly the jello turned,
Afraid to be put back.
But then the man just chuckled,
"Maybe I need a snack."
The jello smiled hugely,
The grin spread 'cross his face,
And he was given to the bagger
Who dropped him into place.
They entire car ride home
Seemed to go by so slow,
And what would happen next?
The jello didn't know.
When the car had finally stopped,
The mix cheered with delight;
He was carried to the kitchen
Where the man turned on the light.
He picked the jello up
And cut off his cardboard seal.
The jello couldn't believe it
And let out a joyous squeal.
The man poured him in a bowl,
Next began to make his treat...
Then the little jello's life
Was finally complete.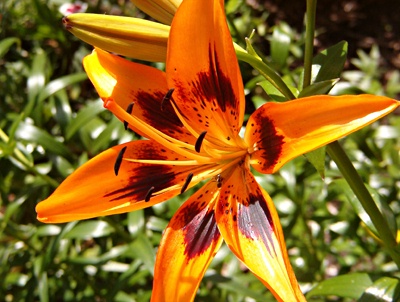 © Terrin C., Humboldt, IA