Our Journey
January 23, 2013
He's smiling that hundred watt smile, a million miles wide.
Feeling high,
his girl by his side.
It begs the question why,
he hurts so bad inside,
and she's just trynna find
some reasons to get by.
Life hurts.
Love hurts worse.
And they've got so much love they're about to burst,
This gift they have is like a curse.
They got the tune, but can't find a verse.
got the motivation but no time to rehearse.
Like your body's still breathing as you're lifted into a hearse.
If you're only breathing, does it mean you're living?
He keeps trying and she keeps giving,
but what's this feeling of something's missing?
Wanting more when they're kissing.
But if they do that, then they'd be sinning
against parents who don't have time for listening.
Only accusing and dissing.
She's spent her life breaking herself, twisting,
bending over backward for them,
now she's distancing herself to be closer to him.
Her family or the love of her life?
Why's it gotta be so easy to decide?
Night after night
Mom and Dad cause a fight
'Til Girl and Boy break down and cry
and all through the yelling they're holding on tight.
Tears are streaming
but they're still dreaming
of their future without parents to say no,
that's why neither let go,
because they're holding on to that glimmer of hope,
when she turns eighteen and they can just get in the car and go.
Find some place they can call home.
Finally just be alone,
then when they get in that zone,
their own little world,
just two people, a boy and a girl,
with nobody watching, breathing down their necks,
looking at them like "What the heck?"
No one to text every other second,
just to check.
See what they're doing now.
It'll be just two people wondering how,
they ended up here and now,
but they're too in shock to say it out loud.
So instead, both at once, they simply say "Wow."
They look down,
at a black tuxedo and a wedding gown,
Twenty fingers intertwined,
two matching rings to say she is his and YOU are MINE.
On those two rings will be written the story of our lives,
from the day we met to the day I became your wife,
and all the way up to the day we will die.
All the good times
and bad times
promises and lies
our pasts and our future combined.
Everything so perfectly aligned.
I know it couldn't have been better timed.
When you look back up and into my eyes,
I swear you'll find love of the purest kind,
and I hope you won't mind
when they begin to shine
and overflow with tears,
as I think about all the years
we'll spend together facing our fears.
Side by side, smiling ear to ear.
As distant as it may seem, the future is near,
and when I look in the mirror
it seems very clear,
I'll spend the rest of my life with you, my dear.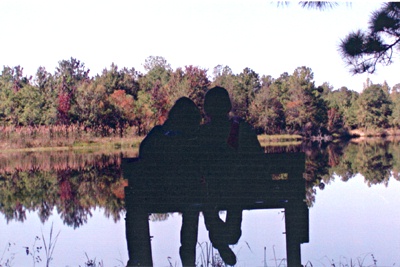 © Heather J., Slidell, LA