Salute
January 13, 2013
When the carnage lets loose rivers of red,
and skies rumble for all the bloodshed,
the wounded lie on the ground, half dead.
The land that once was scenic and nice,
now sits bloodied and rotting, bitter to the eyes,
a place where someone lives, because someone dies.
As their half dead brothers die in between their prayers,
the soldiers just wear their hardened stares,
and wonder which bullet is theirs.
The sun sets down and silence fills the air,
an aching silence, too painful to bear,
each soldier's conscience, heavy with despair.
And still they rise above each and every day,
to a new challenge, a new battle, another reason to pray,
because they know that this is the only way.
A salute to the hero, who dies in strife,
who sacrifices and lets go to save another life.
A salute to his broken family, a salute to his way of life.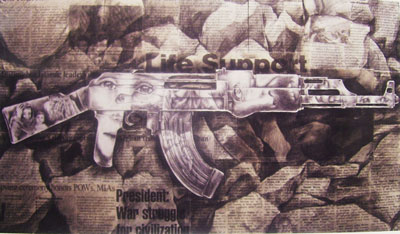 © Claire V., Lubbock, TX