Man Playing the Guitar
September 25, 2012
He sits there, playing all day long,
No one knows why he plays such a depressing song
He sits there, desolate in his own state of mind
No one pays him any mind; most don't know he is
there, except me. I listen, taking in his somber tone
He sits there, his old crumpled hands composing music from his hurt
What is his hurt? Why does he stay there alone, not noticing anyone or anything?
He sits there, with hopeless eyes but a hope in his music
Where does he stay? He must have a home and family, but where? Who?
He is gone, no music, silence, the square empty
No one noticed when he was here but now, they know something is missing
He was sent away, never to return again
They all go back to their daily routines but mine is now gone
He will be missed, him and his music, an end coming soon to his hurt.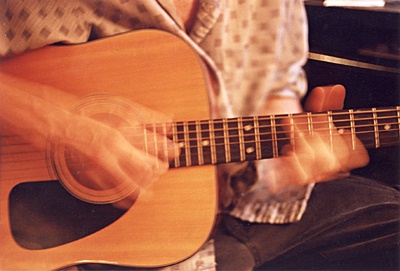 © James S., Philadelphia, PA