Life Goes On
May 8, 2012
Loud and clear played booming music,
And I just sat and listened,
To hearts beating in happiness.
While mine was empty of all but doubt.

But they tell me one day I'll dance
Again, "life goes on", they say.

"Something's wrong with her," they used to say,
So I just turned up my music.
My brain took over my bodies dance:
To my heart I no longer listened.
I lived a life of covered doubt,
Not knowing beneath was happiness.

So I tried to fake new happiness,
Thought they'd change what had to say.
Smiles, over laughs, hiding doubt.
But it was all forced as children's music
That no one stopped and listened,
No one, to truly know my dance.

Slow and agonizing was my dance,
Trying to find the happiness.
To not one being I listened,
They thought they knew what I would say
They didn't know my song, my music.
So I fought them with my doubt.

Permanently engraved seemed this doubt,
Of the world, even when I danced.
It reappeared in all booming music,
Beating over all happiness,
"Everything's fine", they used to say
"No", I said. And that's when they listened

For when they all listened,
With or without doubt,
They still judged my dance, what I had to say:
But alone I did dance.
And slowly found happiness
Replacing the "ever beating" music.

Life goes on they say, I wish I listened.
For only now when music plays, I hear songs of doubt;
But dance to ones of happiness.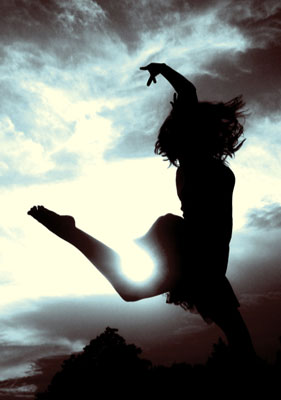 © Martha V., Morton Grove, IL