The Storm
April 29, 2012
The wind brushes against my face and the grass runs beneath my feet.
The world seems perfect until the storm comes and blows it all away.
The tears start to pour down as the heavens start to cry.
The wind sings its sad song and the world becomes dark covered in the shadows. No light can escape.
No hope left only sorrow.
The night starts to scream and he** drags us down one at a time.
Wave's crash and thunder roars.
Hearts fall to the ground beaten and crushed.
Destruction bears arms and continues to steam past those whose regrets fall before my eyes.
The smell of blood lingers and the hurt never stops.
One thousand stabs in the back and I'm still walking.
So close to the end but it never comes.
Weeping hearts and crying souls play their sad music in the back of my head.
I lie to myself and say it will go away but they just keep getting louder and more painful.
The screams begin and I can hear their sorrows and their tears.
They are asking for help but no ones around to hear them.
Only me but its too late and now they are all gone, out of my reach.
I see the flames that consumed them and the burns they suffered.
I wish and pray I didn't have to hear this.
Shattering glass and sharpened knives.
I can taste the salt from my tears as they leave a path where they ran down my face.
I wish I could experience the beauty of walking away but they follow me every where I go.
The sound of grinding bones,
tears of blood that stain as they fall on my skin,
the hate of the world and the love that doesn't exist;
pictures of a thousand murdered spirits and dreams.
Once crowded streets are emptied,
deserted,
abandon,
and forgotten.
Any other souls, besides me, crushed by the absence?
Families that once were, are now torn apart.
Children's dreams forgotten and lost among the winds.
I can hear them laughing and giggling but those days are gone,
now all that's left are the sighs and sobs from those mournful nights.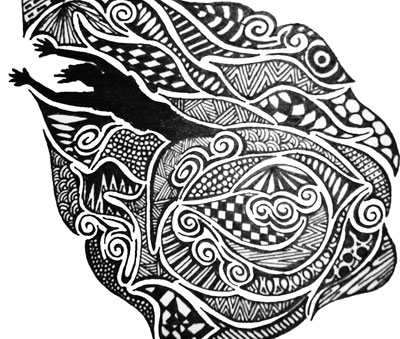 © Caroline B., Haworth, NJ