Eagle
December 14, 2010
Can't escape, can't break free, can't be me.
Gotta get lose from these chains holding me down.
Gotta spread my wings and soar.
Here i lie getting ready to reach for the sky gitting ready to spread my wings and fly.
The beauty people see in me is breath taking.
My colors shine like the sun.
When it's time for me to let go, I'll just go with the flow.
I'll go where life takes me.
Like a wave casting out to sea.
And for the first time in my life I get to feel free.
I'll ride the sky day and night, from dawn to dusk.
I'll be unstoppable.
My wings will flap in the wind.
I'll sit in a tree, oh so happy i will be.
When I fly it will be magic, like you see in a rainbow. High above the clouds I'll be, please don't wait for me.
Majestic eagle, so beautiful and free, won't you come fly with me.
My wings will burn up the sky till the day I die.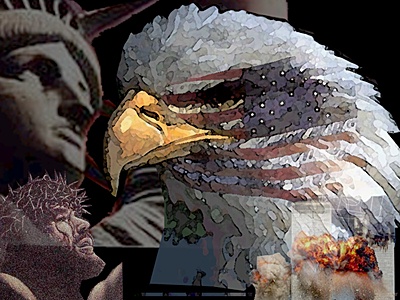 © Casey R., Lewis and Clark Village, MO