I Danced In My Sleep
December 4, 2010
I danced in my sleep- and felt a rush, a touch, of gold; in which engulfed me
and then my soul was sold.
I felt an emptiness down deep- and even with a shadow hovering above I would
gracefully have shined; brighter and more brilliant, my radiance would be
undefined.
I had become a reliable witness- and drank in all that was around to be found
with an eye sharp for even the most intricate of detail; never again would I
loose my strength or look frail.
I conquered fear with fitness- and combated all underlying distractions by
finding the indestructible strength I held within my chest; the heart that
pulses tirelessly underneath my breast.
I fought sadness I never believed would go away- and beat it senseless instead
of allowing it to build like it had done; finally I took a stand, I took a stand
and I won.
I leaned forward, eyes closed, I did not wish to see the world on display- and I
spoke softly (ever so softly) whispering a gentle hush and after years of
silence on feelings never spoken; my mouth had gone to open; and out came
pouring "I had once been lonely, my past brought me sorrow and my only comfort
brought me pain, but it's time I say what's on my mind, for I am no longer
broken.
No, now I shall fight with every last beat of my heart- and prove that I am not
weak (if I can speak) for my eyes have seen immoral things, my ears have heard
injustice, and my spirit has felt pain nobody should have had to go through; yet
maybe in those final moments before I slip into sleep I will think of pleasant
things to awaken to.
Now as I peacefully rest my reality begins to fade- and I drift into another
dimension, a world in which I pay attention, where beauty is unavoidable because
it lingers in the air; and as long as you can imagine, anything can go on in
there.
I grasp a concept and study the structure in which my mind tears at it, ripping
through it as if it were a razor blade- and in dreams there is no such thing as
absurd or unheard; anything can work in a world of creation for it comes to life
with my word.
I believe in those fairy tails I read as a child- and I know of magic that casts
over millions with not even a slight trace; the spell that falls upon us- love,
the most euphoric experience to ever take place.
I have no knowledge of perfection but I assume it would be in these dreams in
which I have smiled- and this is where love is the aura in which I bask; this is
the world where my personality unveils and I am left the girl without the mask.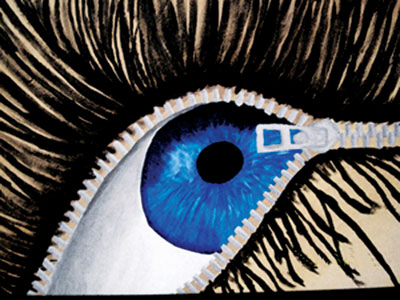 © Brad S., Lecompton, KS