Dreamer
August 10, 2010
Dream for me a place
Where hearts no longer bleed,
Where demons are like angels
And eyes aren't full of greed.

Find for me a home
Where families aren't so broken,
Where innocence comes alive
And words aren't left unspoken.

Describe for me a world
Where happiness isn't so brief,
Where forever is a promise
And love never turns to grief.

Immaculate it all may seem,
But is there such a place outside dreams?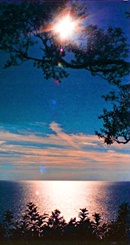 © Crystal B., Gresham, WI