The Empty Streets
August 5, 2010
A thousand times I have traveled,
barefoot through the snow.
Down these empty streets,
that seem, so very cold.

I have tracks that led me forward
and others attempted back.

'But why go back?

There's no one there.
For these streets are nearly bare.

Snow fills them up
and my undecided feet just walk.

I trudge on forward continuing my search.

Seeking out to find a person. Someone just like me.

Someone who wants answers, not theories.

Demands for attention.
Instead of begging.

Just one person who'll understand.

Not someone who looks at life going through the hour glass like sand.

I take another step.

In hopes to find someone or anything at all.

I've been walking this way for way to long. I started when it was nearly fall.

I hear a noise.

A crunch of snow.

A squirrel? Bunny?

No.

My eyes widen, as I turn around to see.

Bare feet walking in the same tracks as me.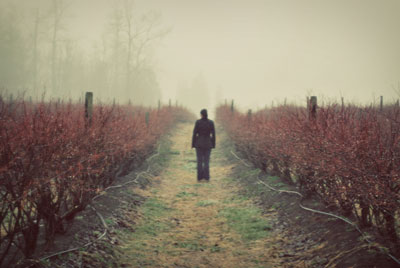 © Molly H., Lynden, WA