Out of my Mind
March 24, 2010
You wrote the intro to my fairy tale
And crossed the snowy bridge to get the mail
While I sat blinking to death under a tree
Hatching wild plans to make you love me

I may be out of my mind,
but I'm also out of ideas,
so I don't care.
I know you're not far behind,
but I won't turn to see you
standing there.

You sang the bridge to my symphony
And climbed the chain-link fence to sit by me
While I hummed dum-de-dum and tried not to yawn
And the smug lightning bugs greeted the dawn

I may be out of my mind,
but I'll be back next summer,
so don't despair.
I know that you're always kind,
though lately you've gotten dumber,
but I don't care.

You were the cure for my heartache
And tied me up with yarn when I would shake
I tried to run away for fun, but you're faster than me
Now I'm caught and here I'll rot
in this precious insanity

I may be out of my mind,
but the sky is blooming sunny,
so I'm near.
To you I'm not hard to find
You'll make love and think it's funny
when I'm here.

You may think I'm feeling fine
but the cloud above my head says
Nothing, dear.
I feel like I'm out of time,
but you have always said
Love has none to fear.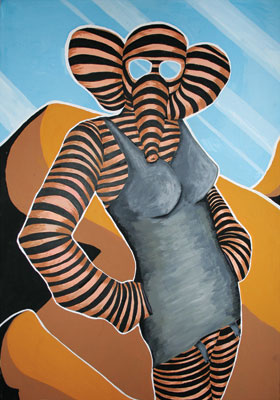 © Tiffany E., Auburn, AL