The Right Skin
January 11, 2010
The Right Skin

She walks with her head down; a hunched over back
Her thoughts overflowing, her eyes cold and black
She stares at the tiles while walking all day.
So rarely would someone have something to say
To the girl they call "freak." she's not vicious or mean
And there's so much soul, so deep its unseen
But she sits in the shadows, and always wears black
So if she ever speaks, they never talk back.
Now this girl isn't different, though she's on her own
It's your own prudence, that's why she's alone.
The difference is this girl knows how to be her
She lives her own life, while you live unsure.
You'll sit there gossiping, wearing the clothes
That cost you so much, because you cant appose.
Because you've the new style, it's the right skin
She can't be with you, she doesn't fit in.
And though she does different from what you would do
You're telling me that she's not better then you?
You, you're the person who wont accept change
And you judge other people by clothes they arrange,
By the foods that they eat, and the earrings they wear
By the way that they talk, or how they do their hair.
But secretly you're scared of what you don't know
And it's so much easier filling the flow.
By flying through life with fake smiles and cheer,
Yet you think she's unhappy, when she has no fear.
Do you stand up to fight when the fists start to fly?
Would you hold somebody if they were to cry?
While she would cry with them; you would just laugh
She'd give you the whole, while you'd give the half.
Still, you always try putting her down
You laugh in her face when you act like the clown.
And while you believe that you deserve the best
You're still just the same as all of the rest.
Don't you understand that you don't own the world?
It's not your own life, you are twisted and curled
Into the person one wants one to be
But you'll never grow if you'll never see
That the lonely girl, the one whose in black
Is still just a person, so learn to talk back.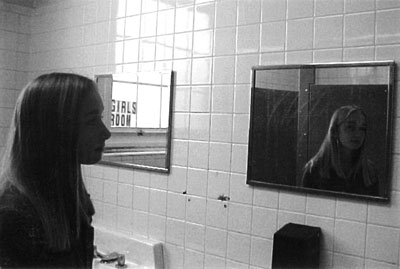 © Jill H., Pompton Plains, NJ