The Sun and My Love
September 23, 2009
I awoke this morning and saw an occurrence quite extraordinary.
Ink was flowing from the space in-between my fingernails and skin.
The colors of the vibrant sunrise were clinging to my hands and released a poignant aura of magnificence that shone, bright and unwavering, into my eyes.
I walked, that day, concealing my ink-glazed hands inside gloves, fearful of losing my treasure to excitement and over-attention. I realized I could only remove my gloves in the presence of the sun. She had so lovingly given vivid life to my pale skin, and I wanted to show her, alone, the beauty my pale hands now exhibited.
But I could not find the sun alone.
I walked and walked and walked and always there were people stealing the undivided love of the sun from me. Frolicking children, giggling babies, and the parents that watched them from a distance. And they seemed so happy, impossibly; ridiculously; unjustifiably so.
I knew my love for the sun was the greatest of all the love there was.
Desperately, I ran towards the sun, my breath quickly leaving me in bursts of fear as I pushed myself to the highest point of the tallest mountain.
I reached, and for one joyous, purely beautiful moment, I closed my eyes in recognition of my triumph. I had found solitude with the sun I sought. I removed my gloves, lifted my hands to show my mother the sun.
Horrified was my expression as I saw the sun leaving me rapidly, folding into the lands in the west, so very far from where I stood.
My gaze jumped to my hands, still outstretched as the last flickering of my bright colors became lifeless. Pale. Gone.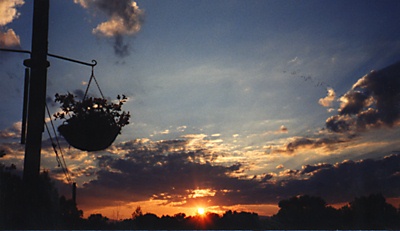 © Ana M., Marblehead, MA