For Another Time, Perhaps
July 7, 2009
I am a glass house.
My windows lock open shut
firing words in your dark
but bouncing like bullets against your throat.
You man, you have tripped over, stumbled
the covers of a screaming child gripping
with bird bones to my bookshelves, but
books cannot save you, child, for words are light
at no end of a tunnel, for there exists no end,
and, for you, a tier slips down
against my back, a spine arched of metal frozen
by time, if time passed at all;
if time passed by me, I'd grab her
through the bounds, though open
would my doors,
unlock my windows,
time would degrade my shutters,
the child beneath my sheets, take them, and
cold, I shudder; your darkness is no comfort
when the most purpose you have is not shelter,
but a kaleidoscope in the sunshine.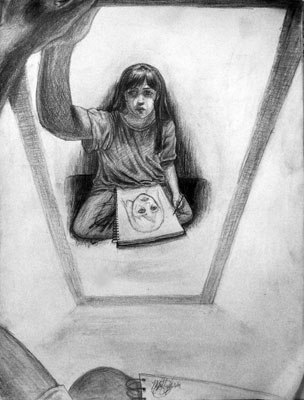 © Phyllis S., Far Hills, NJ