Contemplation: the silent art of manipulation
MAG
your eyes sparkled in the rain." you tell me this twice.
my windshield wipers are on full speed,
so i can't hear you not that i'd believe you, if i did.
you try to hold my hand but i don't feel it.
i pull back and touch my hair, it's wet.
i look over but i see past you into the other lane of traffic.
i see a couple smiling at each other.
you smile at me, a smile i don't return.
you're crying on the inside of your eyes but you keep trying to get my attention.
"i'm driving," i mutter as i push your hand away from my waist.
you are hurt. but i don't know it. i'm looking for the exit.
i turn the music up to block you out, but i pretend i just like this song.
i'm a liar.
the rest of the time we ride without talking,
with the music up so loud it's hurting your ears.
but i wish it were louder. i see you glance at me and then turn to the window.
you're thinking about tomorrow.
will you be happy?
i cough, but it's not because i'm sick. i bring your thoughts back to reality.
it's awkward.
the song has ended and the quiet is overwhelming.
i roll down the window to listen to the city, but i can't turn that sound up.
it's too low and you've started to speak. you tell me that you love me.
my mind is on the speed of this car, so i can't hear you.
not that i'd believe you if i did.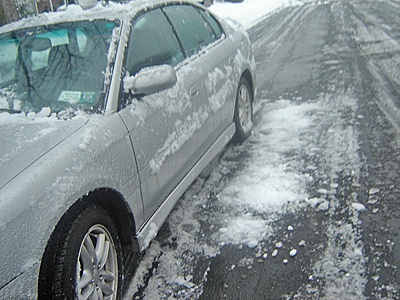 © Allie S, New City, NY