May 07, 2009 (a)
May 25, 2009
The wink of eye
The flash of a smile
All the while your back half turned
To the moving picture
So as to spy me
Quarantined in the back.

As the cold air brushes my shoulder
Kissing the chills it brings
The bumps responding on my legs
Your eyes touched by a sparkle from

The blue glow illuminating the room
I am tired from blank.
The story line lifts my heart in awed dreams of day.

The years as they flew past
Childhood friendship
Teenage courtship
Marriage
Children
An infatuation of a past life
Taking hold of the work behind delicate eyelids.

The love of breath
A pounding heart
As it meets its mate
Two souls tied in a
Lover's knot
Me and you; you and me.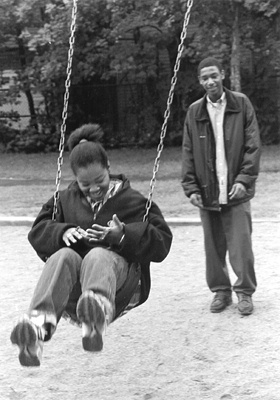 © Yaniris M., Boston, MA