I Named You Pollyanna
May 20, 2019
I've been on a roll -
Always writing something new,
But everytime I write something -
It's always about you.

The first time that I said something -
I said you were my drug -
The next time it was different -
I said to squash me like a bug.

I say that I'm in love with you,
But I've never known your name -
If only you were human -
I'm so sure we'd be the same.

Some say that God is in the gaps,
He's in the places we can't know -
And since I've never been in love -
You're those places I can't go.

You're the me I might be later -
And the truths that I can't tame,
You're the unknowns in my universe -
So I've given you a name.

You're my Pollyanna -
Cause that seems right in my head,
You're my hollow sense of hopefulness,
That makes me feel less dead.

You're the God in these gaps,
A frenzied need to fill the void,
You're my usual attempt -
To feel less paranoid.
You know existence is a sinking ship -
And in the end we drown,
So why not fake a reason -
To keep from drifting down.

But I promise your significant -
Who cares if you aren't real,
I even wrote this all for you -
Cause I know just how you feel.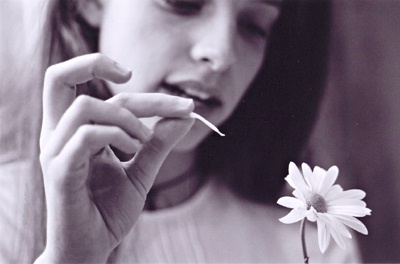 © Emily B., Houston, TX