Starlight
April 17, 2019
She
lives very
far away from
the town that I
call my home. She is
someone that can make me smile
when the clouds sail across the blue
veil of the world. When the shadows cast
their gloom over the fields, she is the light
that calls me to a city far away from here.
Her
eyes are
bright and shine
through the pixels on
my phone screen. When I
cannot see them, I miss their
luster. I see those eyes pierce through
my dreams and break the shell that this
town has built around my shallow soul, convincing me
that there could be something better than this lonely place.
And
the morning
glow of the
sun that rises above
fields of wheat reminds me
of the same sun that rises
over the towering buildings in the city
that she has made her home. The city
that holds her friends, her school, her livelihood, and
everything she seems to enjoy, besides the person she loves.
So,
when I
walk through my
town and see the
single streetlight that occupies my
yard, I think of the sky
of streetlights that she sees every night,
wondering if maybe, when she looks to her
streetlights, she sees the soft, golden glow of the
stars sailing over these infinite fields, thinking of me too.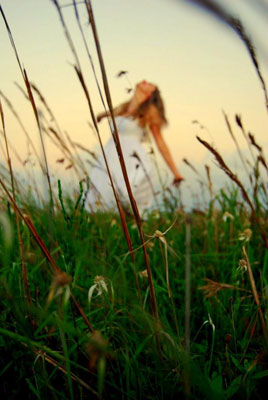 © Richard F., League City, TX