Small Writers Wielding Big Dreams
MAG
April 24, 2009
Let's write our way out of this bad situation
to a place in time where trees don't shed leaves,
gentle wispy wind soothes like a mother's touch,
and wreaths of happiness bedeck every man's front door.
Write it out.
Like drawing venom from a wound,
extract those words from the finest recesses of your soul
and pray that it will be enough.
Write your way into the prim polished printing press and the eyes of millions.
As fortune follows fame, love soon tags along.

What are you waiting for?
Sit back and wrap those fragile phalanges around a medium of mineral
or stretch and tap them upon technology's gift to writerkind
Whatever you do, don't get lost in the process.
Oh, fool. It's easier than breathing if it's truly yours for the taking.
Is it?
So take it.
Make everything you've ever felt worth feeling and all you've seen worth your sight.
Deep breath and plunge.
Now …
write it out.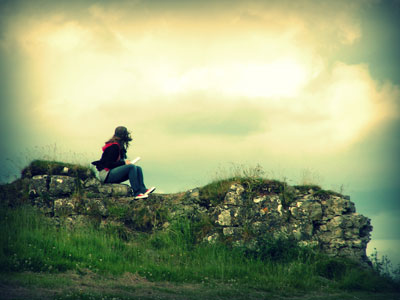 © Caroline C., Coronado, CA