The Burnt out Forge of Andrew Degeorge
February 12, 2019
Within the burned out forge
Of Andrew Degeorge,
Layed the metal all parched
And a man's hands starched.
For years within the forge
Of Andrew Degeorge,
Trying to make swords from rings
And using wool for bow strings,
The forger Andrew Degeorge
Within the burnt out forge
Was told to make new weapons
For his king rarely ever beckons
"To the forge owned by Andrew Degeorge,
Take all the weapons and begin to reforge
For something new will shock of course
Our enemies on their blackened horse."
The forger was confused by the king's words,
But nonetheless created things for the guards.
When the work he had slaved for was given
The whole army tried to find him, mad driven.
"Swords made from rings? Are you insane?"
"Wool for our bow strings? What a pain!"
The complaints were an unbreakable chain,
Where nothing was lost, yet nothing to gain.
Back in the burnt out forge
Went Andrew Degeorge,
Shaking his crisp fists
And crimpled wrists.
"I spend all of my energy on these days
Only for it to just be a complete waste!
Oh please god give me some great gift
Before my punishment comes by swift!"
Now inside the burnt out forge
Paced Andrew Degeorge,
Hoping and praying with faith
In his soot and ashes to bathe.
He looked into every single window,
Crack, and hole within his clay walls
Searching for the looming death tow
Or a sound of the hyena's happy thrall.
But the only thing that he was able to see
Was absolutely nothing out of the ordinary.
Knowing this did Andrew Degeorge relax
In his burnt out forge of holes and cracks.
For hours upon hours of a silent dread,
Days upon days not once going to bed,
Driven insane was Andrew Degeorge
While staying in his burnt out forge.
Amongst one of these days of remorse
Came upon his wish, a god-like force.
Though he hadn't known the source,
Until something flew right on course.
Expecting that of a high refined being,
He was sure his ashes were unseeing.
Opening the door of his small forge,
He had to look around in a search.
'How could this be possible?',
Questioned Andrew Degeorge
From inside his burnt out forge.
'My god don't think I'm horrible!'
Upon came a bird flock, full of yells
That he thought was heaven's bells.
All of which were painted of night,
Except one he managed to sight.
The one he caught came flying down
His heart having joy at the turn around.
The bird landed on a small tree of brown,
While he bowed as if it had a tiny crown.
The bird was colored the same as any raven
But it had red shoulder armor, never shaken.
Toward the end laid a wide array of yellow,
Like that of the fiery ends of a war bellow.
"Are you the messenger of god?
The one who'll help me not maraud?
Or perhaps my prayer was flawed,
Maybe I gave my details too broad."
"Why you humans doubt my ability,
I will not never come to understand.
We've heard your prayers gracility
And won't leave your empty hand."
He looked at the bird in utter disbelief.
Whether it was the fact it could speak
Or he must be losing his own sanity,
There was no clue what any of it'd be.
"Pardon me if I come out a bit rude
To ask this question in a wrong mood,
How was my prayer possibly viewed
When I had not a piece of bird food?"
"My eyes view all who are in need
No matter what the type of breed.
I then fly to the next place I heed
While my wings direct your plead."
Andrew Degeorge had no words
Towards the well-spoken bird.
The bird's patience was short,
For it had a lot more to sort.
"Now that you know this,
I must be on my way.
Take this as luck's kiss
And may you never stray."
And just like that the bird flew away
With that he looked at the item given
To the answer wouldn't come that day
For the answer was wrapped in code.
For hours upon hours of a silent tread,
Days upon days not once going to bed,
Driven insane was Andrew Degeorge
While staying in his burnt out forge.
He racked his brain not only once or twice,
But over millions of times freezing like ice.
The bird gave him a holder and a tiny note,
With his brain and heart ringed to the throat.
With all these possibilities I present to you
Of numbers and windows fitting the screw
I present the true question bleeding true,
Would you rather be a wound or the glue?
He thought on the words over and over
Trying to find the combination needed.
It took forever to find what was in the holder
But when he found the answer, he felt cheated.
All there was inside
Was parchment and ink.
Cried out and dried,
He couldn't even think.
At that point he was ready to turn himself in,
But the bird returned seeing him now so thin.
Seeing the bird from when he gave in to pray,
He recalled the phrase and may you never stray.
Determined, he worked day and night
In order to pacify the coming fight.
He wrote in speed of the bird's flight
Getting the words in the king's sight
The guards tried to have him murdered,
The king stopped it from going any further.
He looked rather pleased at the forger
Leaving everyone confused longer.
"I knew it was right to send you this task
Though I did fear it was too much to ask.
I thank you beyond all the words can ever bask
For the weapon you've accomplished to unmask."
Now in the burnt out forge
Of Andrew Degeorge,
Laid his dream pirched
And his pride fully charged.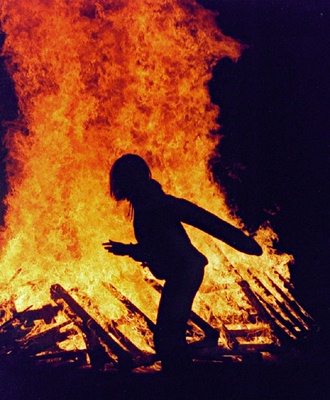 © Hali S., Robinson, IL