Lemonade
April 14, 2009
My grandmother says
That when life hands you lemons
All you should do
Is make lemonade.
And she sits in her kitchen
As she tells great stories of wonder
Of the times when her past was then present
Oh, great wise one
Sitting in a rocking chair
Rocking in the kitchen
With her ashy gray hair
So she rocks
And she rocks
As she peels away
At lemons
And lemons
More every day
She carefully draws out the seeds
And coaxes out the juice
Powdered sugar
Seven ice cubes
Served every time I come around
On her old white porch
Swinging under an apple tree
Sipping at the lemonade
We made
From life's lemons.

Grandma can turn lemons around
Something a lot of people cannot do.

BUT
Although she makes lemonade very well
Almost like poetry
Except hers TASTES...

Well...

They say hearing the first to go
For my grandma
It's taste buds.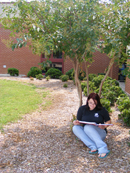 © Carly M., Cleveland, GA