A God Given Gift Intending to Heal
April 14, 2009
As I'm left feeling defeated by the ache you placed in my heart, I realize the one thing which could bring me back up again.
As I climb onto the horse my saddened scars begin to heal as a sense of comfort washes over me.
The chase has begun.
I adore the carefree feeling it gives as the two of us fly around the fields.
The wind whipping my hair, and stinging my face seems to blow all my worries away.
I could ride for countless hours, just the horse and I.
The protection I feel is a sense of irony, as some people feel safer without the speed of the horse or even just to stay on the ground.
No, for me my safest place is on the horses back. It gives me a chance to outrun all my fears.
I seem to gallop away from any pain that was left in my heart from just hours, or even the years before.
No one can catch us.
The thoughts of discouragement those left in my mind are now put behind me as we run even faster.
Try to catch us, but I assure you, you won't.
Right before me you can lay your criticizing nature that once brought me down, but on my horse I acquire a taste of confidence that magically surrounds me.
With one simple movement of my heels dug into the horses' side, he knows to take me faster, and the higher we fly.
The horse can feel my every emotion and does exactly what my soul tells it without a spoken word.
We have run so far away now from this afflictive world.
The demons that come with daily life have given up now. Vanquished they lay miles behind us, the chase is over.
A beaming light of happiness shines from within me, and leaves them forgotten.
Some say it's just an animal, but the horse is truly a wonder God made intending to heal.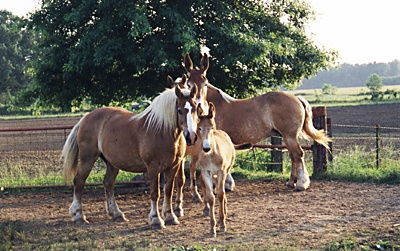 © Mark D., Mayfield, KY