Rose Petals
April 12, 2009
During the summer, amidst the fall
the truth is told to one and all
blood red glowing in the dark night
dawn is breaking into the light
you hold your lover's arms and say 'goodbye'
you look into their eyes and say 'I tried'
walk away from them, start to tear
there should be happiness; not hurt or fear
while the rose petals fall onto the floor
you drop to the ground saying 'no more'

the weeks go by, pain comes to ease
the rose petals fall with no cease
your love won't let go, it fights to stay
you hope it leaves and goes away
hearts swell, destined for explosion
you hold on tight to stop erosion
rose petals fall, never stopping for you
rose petals fall to keep all true

But what happens when the petals end?
Will this tragedy be thought pretend?
Will truth prevail while all else drops?
Will all sense just cease and stop?

Rose petals fall, one by one
hidden from everything, even the sun
you hold it close, you shut your eyes
you shush yourself to sleep and cry...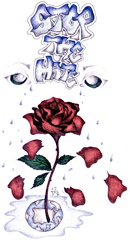 © Diana G., Phoenix, AZ