Transcendentalism
September 18, 2017
"It's not what you look at that matters it's what you see"- Thoreau
Whilst I admire Thoreau's argument the way he declares it is how you say..unofficial.He uses complex metaphors that he himself believes will entrance the readers when in reality it dulls his argument and leaves his argument nil, in his view oppressive religion is a beast that should not exist and yet what he believes is oppressive in its own self.

"Simplify,simplify,simplify"

He states he wants everyone to simplify and to become less than what you actually are, if that's not oppressive than it is destructive.To strip yourself down to your very being is the very most destructive thing you can tell anyone "Strip down to your very being and live as nothing more than what y ou are." whilst that may not be a direct quote it is the concept.To strip to nothing..is to become nothing and to be little more than what you already are. Thoreau might've viewed himself a wise individual of integrity and propriety but in the end he a wise man failed to see the error of his believes.
"Any fool can make a rule, and any fool can follow it."

Thoreau believes life should not be made of rules.If not then what should we base our morals on?Base it on society's depth of opinions, if so, did Thoreau realise that what he was saying was in itself a social injustice?I found his argument oppressive and quite too complex for a man of simple dull ways.Persuaded me? Nay.I recognized his opinion but if I agreed with everything he said I may of well condoned his wording and his overuse of expressive metaphors.

"I went to the woods because I wished to live deliberately, to front only the essential facts of life, and see if I could not learn what it had to teach, and not, when I came to die, discover that I had not lived. I did not wish to live what was not life, living is so dear; nor did I wish to practise resignation, unless it was quite necessary. I wanted to live deep and suck out all the marrow of life, to live so sturdily and Spartan-like as to put to rout all that was not life, to cut a broad swath and shave close, to drive life into a corner, and reduce it to its lowest terms…"

Destructive beliefs have destructive ends.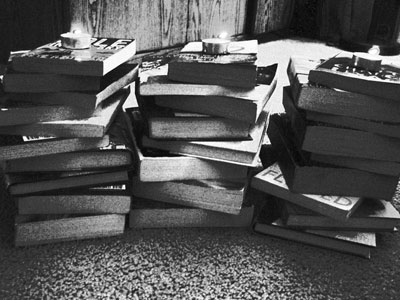 © Alexis R., Clarkdale, AZ