My Soul and Yours
March 28, 2012
Imagine yourself walking on a road. Paved or gravel, it doesn't matter because it's your road. This image of yourself walking is your soul. Everything you learn and experience affects your soul.
If it's inspiration or success your soul will shine and glow. It'll keep walking and walking tall.
If it's disappointment or anger or fear your soul will start to tumble down a rugged hill. A scraped knee, cut up palms, and a broken lip. Your soul will not shine. If you continue with this path soon your soul will fade. You must pull yourself out of the rut that you're in and continue walking.
Life isn't about falling it's about getting back up.
You always have a choice in whether your soul shines or fades. You are in control of your life. If you have the choice between a joint or a juicebox which would you choose? Skipping school or graduating? College or drug dealing?
Life throws thousands of possibilities at you. You have to make sure you choose the right ones.
Imagine yourself on your road. Ask yourself what you're doing with your life. Is it the right thing?
My soul is still walking, is yours?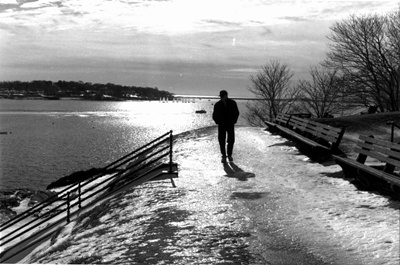 © Steve S., Marblehead, MA