Blend In or Stand Out?
July 24, 2017
Unanimity. A conventional concept of unity, fraternity and agreement. But what if unanimity is an overrated concept thrown around to overshadow the power of uniqueness. One thing about us is that we mistake everything that's unanimous for unity; be it an attitude, a decision or a voice. Because having the same attitude, the same decision, the same voice doesn't mean we are united. A single unanimous voice for all doesn't make us united, it makes us similar. Rather it's the mutual respect; it's the tolerance for unique attitude, unique decisions and unique voices, which makes us united.

Unanimity is something that is instilled in our minds from the very beginning. We are all treated as unanimous bodies from the moment we step our foot on the first day of school. Despite the fact that every human is created different by God, unanimity has been the major principle in the very institutions that carve out the humans from a living entity. No human being in this world is identical. But again, it's our difference that makes us the beautiful species we are today. Often we see people afraid to showcase their uniqueness fearing to be left behind, fearing that they'll fail to blend in. Like the Criss Jami quote goes, "When you're the only sane person, you look like the only insane person." People consider the "showcasing of uniqueness" as an act of egotism. But it is much more than that. It's not always about showing off or being egoistic. It's about being happy. It's about being comfortable on one's own skin. Because lowering one's perspective about oneself is same as destroying one's own self.

The legends we speak of today are called legends for a reason. They did what none thought could be done. They showed the power of uniqueness over the power of unanimity. What if Einstein chose to agree with his peers? What if Mandela chose to be oppressed? Would the world we live in today be the same? Okay, let's just forget about legends for a while and focus on a much common example. Consider a team consisted of individuals of unanimous attitude and another with individuals of unique attitudes. While the latter may sound disheartening, but it is the one with the higher success rates. Because, from the evolution of mankind, unanimity is not what makes us great, Rather it's the combination of unique perspectives that does.

The society will always suppress any ideas or voices which go against its principle of unanimity. Anyone choosing to be unique will be laughed at, will be alienated. Because it judges its citizens by a unanimous measuring scale. Ultimately, it forces them to wear a mask of falsehood and deception. But successful are those who can maintain their originality despite all these, who can make out of these without a mask of unanimity. Why choose to blend in when you were born to stand out?

Be your own authentic self. Be real. Be unique.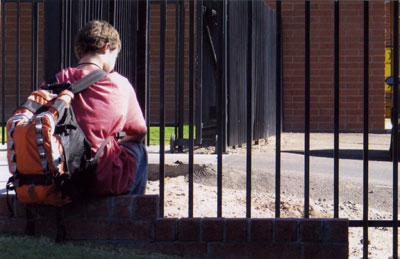 © Molly L., Phoenix, AZ