The Power of the Teenage Girl
MAG
March 24, 2015
I believe in the power of the teenage girl.
I don't believe that the world is as bad as everyone says. I don't believe that the news is an accurate representation of the world. Yes, of course there are terrorists, robbers, rapists, and murderers. And yes, it's important to know about it. But there's so much more good in the world than we hear about. And you can find it in a group most people overlook: teenage girls.
Teenage girls are some of the nicest people you will ever meet, I swear. We get a bad rep for being gossipy, which I'll admit can be true. But I've seen so much good from teenage girls that never gets talked about.
We will offer each other sips of anything we're drinking, no questions asked. We share our food and our clothes. We give compliments like they cost nothing, because they do. We give our friends makeovers and back rubs and hairdos. It's expected that we'll spend endless hours talking about whomever our female friends have a crush on, and we do it with gladness. If a friend is feeling sad or upset, we make it our mission to cheer her up. We love harder, laugh longer, and cry louder than any other group of people on Earth.
So why are we the ones who get made fun of?
Teenage girls probably, for others, bring to mind images of a girl taking a selfie, or crying over One Direction, or dressing "inappropriately." Every time a teenage girl makes something and puts it out in the world, especially on the Internet, others are desperate to crush it with ugly words. They act as though her opinion doesn't matter. How dare she think and grow up and be a girl all at the same time?
If a girl cries over a boy who doesn't love her back, she's seen as desperate. If a girl rejects a boy she doesn't love, she's considered shallow. If a girl has sex, she gets called ugly names and you can't hang out with her. If she doesn't, then she's no fun and why would you want to hang out with her? If she's really skinny, people think she's trying too hard, but if she has even an ounce of fat on her, then she's disgusting and must not care about her body. The paradoxes are endless and depressing. The world has it out for the teenage girl tooth, nail, and keyboard.
And still, if you run out of feminine supplies, no matter who you ask, any girl will give you what she has. We divide bills and responsibilities as easily as possible. I've had countless girls give me their last pencil or the hair tie off their wrist. We help each other out and lift each other up, which is good, because everyone else seems to be trying to tear us down.
So, yes, I believe in the power of the teenage girl. I believe in the 21st-century ideals being challenged by girls who dare to love themselvesenough to take pictures of themselves. I believe in making the people who run our society angry and confused because we're daring to take the world by storm. I believe in the incredible courage girls are showing every day, despite the obstacles set up to stop them. I believe in laughing until you cry and crying without shame. I believe in us.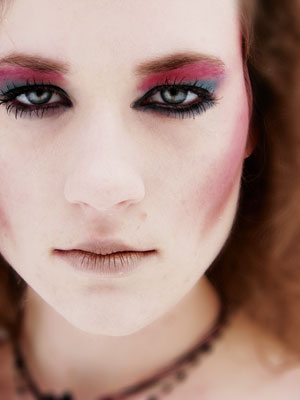 © Elizabeth H., San Bernardino, CA