Mr. Chavez and Me
March 22, 2011
Justice, sacrifice, and courage. One day, my mother and I, newcomers to Berkeley, huddled in the marine park named after Cesar Chavez. I sought only a beautiful sunrise but was offered much more than that. There, I first met you, Mr. Chavez. We talked at length, mostly about my concerns, but also in regards to the beauty of the horizon that loomed before us. I asked numerous questions and you resolved my doubts. In this park, kites usually glide, dazzling the eyes with their gorgeous colors, but that day their magnificent magnetism lacked strength. In that magical March morning, it was the spirit of Mr. Chavez, not of the kites, that soared by my side. The spirit of a fighter unafraid of facing adversity for an honorable cause. Of a man bearing the flag of peace; one who raises his voice as his only weapon to enforce what is just. Of a being who claims assistance, out of sheer solidarity, for those who cannot fend for themselves. Of a holy man who gives everything without asking for anything in return. There, as the dawn began to settle in, so did my search for the meaning of these words: justice, sacrifice and courage. There, we prayed together for that eternal quest to remain on the right track.
The concepts of justice, sacrifice, and courage are like honey: sweet, enigmatic and majestic. These concepts, repeatedly reflected in textbooks, attract the young and innocent, and those less so, into their entrancing web in search of promised wealth. But not everything that glitters is gold. Soon enough, unbelieving eyes discover that terrible deeds, stained with blood, pain, and misery, have been committed in the name of justice or as evidence of sacrifice or courage. Much too often man preaches that we must fight using violence to win. The "hero" teaches that the ends justify the means. But when the queen bee stings, it hurts. Cesar Chavez, on the other hand, used words, renounced violence, and won. Honey is exquisite when the harvest is good.
The life of a student like mine is busy and too often we complain: I have too many tasks on my plate; I have to take too many tests; this and that... Often, this bubble we live in keeps us from knowing and approaching other realities, or simply ignoring them if we find more suitable or comfortable. Many students are sheltered from experiencing the harsh daily realities of others worldwide, and so our view is very limited and relative. Distant realities that, metaphorically, could be compared to a leafy green garden, full of fruit on one side, and a dry garden on the other, bare and sterile. Cesar Chavez, whose pacifist vision developed after the realization of the powerful use of words in the paths of these tremendous dualities of life, guides us wisely in the way of empathy and understanding of others. Whatever the reality of each individual, they must first accept themselves in it to then be able to rise spiritually to that level at which dialogue is the true power of humanity.
Justice, sacrifice, and courage. Your teachings, Mr. Chavez, have changed my life. These concepts will never again make sense to me when accompanied by a struggle that fails to germinate peaceful dialogue, personal responsibility, and perseverance of the noble spirit. A bright morning like this, accompanied by the presence of my mother, whom I love most in the world, happens once in a lifetime. It is unique, and its impact, which I firmly believe has been a great blessing, I owe to you. Thank you, Mr. Chavez.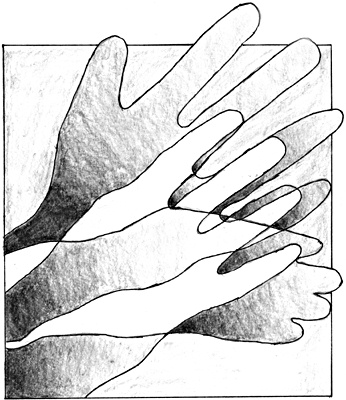 © Dawn Grace R., Barrigada, Guam