the last year of high school
May 27, 2010
Do you remember the first day of school, new friends, new faces and feeling depress. Old friends from your middle school years hanging out with all types of unknown crowds. Your best friend who has been there since 7th grade already chilling with the popular kids in school. A friend who you use to play baseball with not knowing you exist for any reason. That girl who wore glasses and asking questions all the time, created as a cheerleader and part of the clique.
It feels lonely huh, but while second year kicks in there are rallies, events and party's going on. Nobody ever thought you existed until now. So in order to fit in, you change your look; change your style and attitude. Ignore people who've been there all your life and just create this whole different character. After a few days, you feel sad and depress. Wishing the people who you've known before to just keep a happy smile on their face.
Then it's the third year and everything you loved just came back into your life. The awards, the specialty, the emotions. Thinking about love, hope and miracle to just be there when you fall. But even though you keep things going, homework and project's are by the end of due date. Nobody knows who you are anymore. Then at your last year of high school, everyone's happy and proud to be heading off to college except you. Because all you ever wanted was to fit in and convince them you were special.
The last year of high school is the last year you'll ever feel like your somebody.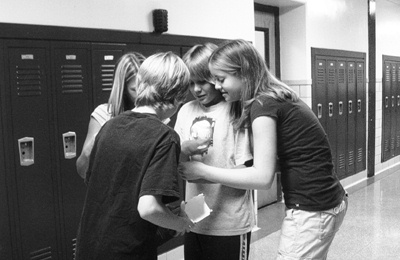 © Kathryn K., Pompton Plains, NJ