The Space in Between
November 15, 2018
First, please read: Dusky Dreams (One of my other poems)
Did the meaning of the poem change when the lines were divided differently? How?

The meaning of the poem changed because the lines gave subtle pauses and different meanings in a language-based way. The feel of the poem also changed from a heart-broken tone to a dark, scary, and sinister tone. This was very interesting and cool because the slightest movement/placing of a word could change everything in the whole poem, from the tone down to the deeper meaning of the whole entire thing.

How did the rhythm of reading the poem change?

I changed the rhythm to match a slow-beating heart to give a sinister, dark feeling that was meant to send a shiver down a person's spine. I think it worked partially and that I tried the best I could with the word choices I had of the side of the refrigerator.

What have you learned about line and stanza division through doing this?

I learned that any slight changes to the physical and verbal structure of a poem can have major affects, for example, the changing of tone, the feeling surrounding the poem, and the overall meaning and understanding the reader get/has after reading the poem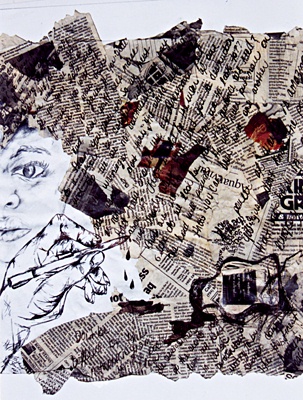 © Lashieta F., Kannapolis, NC