THH: What's With That One Red-Haired Chick?
June 13, 2014
She's our star-crossed demon hunter, the snow-trooper Ygritte, our infamous Dark Phoenix, Lily Evans before Ginny Weasley, and she's probably been here for a long time.

It doesn't matter if it's a dark, bottled cherry, or a strawberry gold, it's still red. That fierce, eye-popper color. And especially now, in a constantly innovating cultural zeitgeist, it has the upper hand in what hairstyle that new movie star will have. "When in doubt, make it red," I imagine the stylist offer.

Blindly sort through the latest YA shelves in your selective fantasy niche, and chances are chancy you'll pick up a book with a girl with flowing red hair and one-word title plastered over the cover. (Or at least a girl with flowing hair and a one-word title plastered over the cover.)

Yeah, that's great and all, but why? And what's wrong with it, anyways?

Alas, to start, saying I despise the color myself would be smiling through my own backwash. I am the addict to the color—I have gone through characters of my own, sifting shoe size, all too many with the brilliant hue. Yet my escapades are not the causation of the column—at least for today—and all I can conclude with is no, that is not the case. We're here to analyze this particular trend, sadly not to coddle it (as I usually do).

As I previously mentioned, the color red is an audacious eye-catcher. Can't any of you confess here that one girl in your class with that burning-bright dye wouldn't stand out to you? Or even the natural ginger? Does the name Paramore, Hayley Williams, not ring a bell to any of you?

That color was meant to do that—to stop traffic—to start things, like it boldly begins the visual spectrum, and to stick out like a knitting needle.

Let's journey on to Black Widow, for example. Master assassin of the Marvel universe, for those unknown to her persona. Her speed and sleekness confuses many, her skill enchanting others (cough cough, get her Hawkeye).

The dark red that we first see her inhabit, in 2010's Iron Man 2, begins as a sultry, almost chestnut red. Then, as Marvel's The Avengers hits markets in the legendary 2012, it's swiped short and goes "true red," not-at-all coincidentally in the chapter she gains a justice angle to her role. And following is the critic-stunned Captain America: The Winter Soldier, 2014, where our Ms. Romanoff (her opposite alias) goes just one tone lighter, a red smitten into orange.

She was meant to stand out. Her color identifies her in the sea of honey-blonde S.H.I.E.L.D. agents, and amidst the geek-sweetheart Jane Foster and our Brit commandeer Peggy Carter. She inhabits the espionage home, and her cutting smile that alerts us I'm one page ahead, suckers. Natasha Romanoff is not one to be messed with, and her red asserts that beautifully.

Who else? And since I just adore the Marvel fan-verse much more than I can admit, let's pick up on Mystique.

This shameless, blue femme fatale has no regrets. Every move she executes never solders her intent, it BURNS it. Her acrobats stun, mentally and literally, and her face will change just as we think we're keeping up with the program. Allllll of that deep-end description is poured perfectly into her hair. Unlike too many of our literary icons today, her hair is never in her face, bangs never dripping into her eyes; it's slicked back and in for business. The tone of her hair, the lively crimson that offsets her azure complexion, could not have meant anything else.

And through all this blabbering, what does that boil down to? Red hair equals spirit. Today, so many more of our young adult heroines are gaining confidence in their worlds, supernaturally usurped or not, and that's starting to show up in…well, their hair. That's the whole of it. That's their super soldier serum. Today, the increasing compilation of those rocking their cherry locks is due to their creator's message, their sometimes-unconscious intent: don't mess with her, she's got a mind and she's not afraid to mess up yours.

Yet is that the "always" case? Nooooo, it never is. Nostalgia. Mistake. Eye-pleasing rights. That wise guy who will work to prove me wrong.
But through the deductions I've broken through above, I think the red hair look is going to multiply. It's already started. Probably because fierce is the new yes.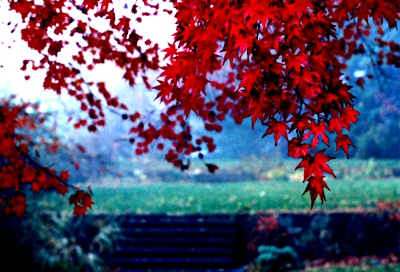 © Susan R., Iselin, NJ