Emo vs. the World
November 15, 2009
As you all know the new generation has new cliques and styles revealing a new gothic type appearance and attitude. Well if you are confused by it, stop being. Who cares. I mean what are these labels? When will we just let the show of expression and creativity be? Wherever the name "emo" came from is a mystery to me, but some say its short for "emotional people." Well jeez, I didn't know there was a special group for "emotional people" and I was sittin here thinking EVERYONE had emotions...obviously I was wrong because it's not like we're all created equal or anything right? Wrong. Everyone has emotions and everyone cries!


Since the time I was in middle school the stereotypes have been that people
Who wear all black, cut their wrists, and are anger depressed individuals are considered "emo" people. Well, in my opinion, people wear black because they like it better than "sunshine yellow" and "tickle me pink" and there are some people out there that are angry and sad on a daily basis and choose to wear black to fit their emotional state of mind. As for the wrist cutting, well, some people do it to relieve stress as would an alcoholic chugging a beer and a doper shooting up their dosage of liquid crack. It doesn't necessarily mean that people who wear dark clothes cut themselves, that's a stupid theory. People like to express themselves get over it! Its no different then if you shop at "American eagle" or "Aeropostale," because everyone has their own style, and there shouldn't be lame stereotypes behind them. People just want to wear what they want without being labeled by others who for whatever reason think they're better.

There have always been groups and cliques in the past that are labeled shallow pathetic names but the only reason I'm addressing this issue is because people have to go around calling people "emo" and then having crude assumptions about their lifestyles and musical hobbies. If you want to go around calling people "emo" and judging them then you best understand who they really are. People join cliques and people look the way others look because that's where they feel accepted and that'll always be the truth. It's all apart of life, some groups shop at American Eagle and some at Hot Topic.



Places like Hot Topic and Spencer's are just places for people to go who aren't afraid to look the way they want and act the way they please whether society approves of it or not. BUT, unfortunately, no matter how much it is preached, the labels and stereotypes will never end, so for now you are going to have to accept life and its judgmental cracks and realize everyone has a place to feel accepted, black, white and sunshine yellow, we are all different but we are all humans. So get over your stubborn animosity and entertain yourself with something else besides crude comments and assumptions, maybe you should go play in traffic because that might be more useful then talkin smack, or go fly a kite instead, because no ones cares.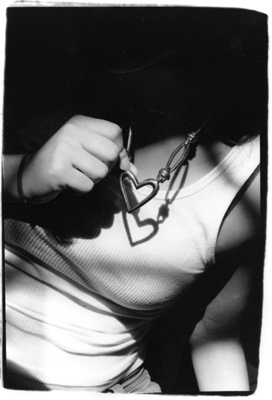 © Julia R., Bethesda, MD