How Media Glamorizes Anorexia
January 27, 2014
Millions of women are skipping dinner, crying themselves to sleep, exercising until they pass out, isolating themselves, and ignoring hunger cues. Why? Because they are utterly terrified of "being fat." Over 24 million people, females and even males, suffer with an eating disorder (ANAD). An eating disorder is not a diet, but a lifestyle that is brought upon someone because of several contributing factors. Biological and psychological factors, environment and society contribute to the person's disorder. Anorexia is the most common eating disorder that affects women (ANAD). I feel that society and media put an unnecessary pressure on women to look perfect, when models themselves do not even look like the person on the magazine. Media is not completely at fault for women contracting anorexia, but it is not helping lessen the number of women affected. Anorexia will never go away, but we should be empowering women, not tearing them down by fake advertising what beauty is. It is important to me that we as a culture can work towards changing how we view women in society. Too many young girls are having to deal with this everyday and it is not fair. Is the death toll worth the skinny models on the cover of People Magazine?
Anorexia Nervosa is an eating disorder that causes people to obsess over what they are eating and constantly over exercise. Psychologists say that anorexia is not about the food, but about control and underlying issues (Staff). For example, someone who may have an eating disorder, could also be dealing with a family divorce or stress of getting into college. Girls who lack control, unconsciously begin controlling their eating so they feel they are in control of their life. You can tell someone is in the early stages of Anorexia by their extreme weight loss, not wanting to eat in front of other people, wearing baggy clothing, and weak hair and nails. Most people, do not take eating disorders as serious as they should. Cancer, Cancer, Cancer, is all you hear about but girls, thousands, die each year due to starvation and organ shut down because of Anorexia. It bothers me that those numbers do not affect other people. Like I said before, we can not stop anorexia, but we can give girls the knowledge and tools to prevent or overcome it. Society is television, newspaper, reality tv shows, and stereotypes. We all live in society and conform to fit in. Back in the 50's, Marilyn Monroe was the Hollywood sex symbol, in movies and on magazines. Girls young and old wanted to look just like her. If Marilyn Monroe was alive today, she would be considered, obese. For some reason, society and media decided that women were only "sexy" if they were a size 0. Girls had to have a flat stomach, a thigh gap, and big boobs. Women can not get away from this thought because it is thrown at us from every angle. Television drowns us in weight loss commercials and diet pills, asking questions like, "Do you have a muffin top?" which you hear heavy footsteps walking in the back. Why are we trying to send this message to young girls? A girl can not spend an afternoon at the mall without being tainted by posters and advertisements of sexy women (Media). The average store manikin is so disproportionate it would not be able to stand up. Other stores, such as Victoria Secret, has floor to ceiling photographs of half naked women with their ribs bulging out at you. Every time I walk into one of those stores, I look up at those girls. I see their ribs and legs that look like they can snap. They look sick, why would anyone want to look like that? Yet women struggle to because that is what we are told is beautiful. It honestly makes me sick that we put this kind of pressure on girls and women. We have turned into a brainwashed and distorted generation only concerned about looks. I am a genuinely open minded person, but you can not tell me that there is a "positive" way of looking at the way society brainwashes young girls. You can ask me over and over again, but I stand for my opinion.
Society needs to take responsibility for their negativity they put on the minds of young girls. We Photoshop celebrities so they are two sizes smaller and have clearer skin. But why? If they do not look like that, why are we pretending they do? Jennifer Lawrence is an actress who refuses to be photoshopped because she does not want her fans to skip dinner to look like what magazines "say" she looks like. I think schools need to teach Self Love and help girls understand their bodies when they are transforming into adulthood. Celebrities and models need to remember that they are the role models of our young generation and keep in mind how they affect others. Doctors and parents need to take Anorexia and other eating disorders more seriously because it is a disease that people can, and do die from.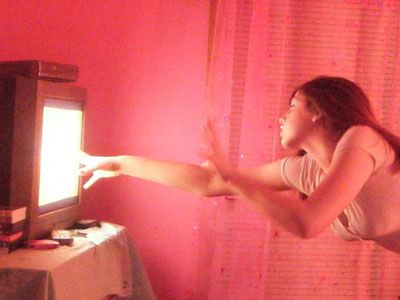 © Emily H., Marshall, MI