The Cost of Counterfeiting
MAG
October 7, 2010
After spending hours browsing the Coach website, you're convinced you must own this season's latest handbag. If only there were a magical way to change the $250 price into $25. Then the idea of buying a knockoff pops into your head. With a few clicks on the Internet, an almost exact replica of the style you want can be in your shopping cart in minutes. After all, it seems like everyone is buying counterfeits. What's the harm?

The truth is, knockoff purses may cause a lot more damage than you realize. One overlooked aspect of the counterfeit industry is where the money actually goes. It is not taxed. The U.S. economy is continually affected by the estimated 98 million untaxed dollars spent on counterfeit accessory items annually. Unlike designer brands, the profits from knockoffs don't go to factory workers or salespeople; they may in fact go to illegal organizations. The FBI found that the 1993 bombing attempt on the World Trade Center was partially funded by the sale of knockoff Kate Spade bags.

Not only is the public's well-being jeopardized by the counterfeit fashion industry, the designers are also affected. Every accessory produced by a company is the result of creativity and hard work. But when you buy a replica, those profiting aren't the ones who designed the bags. Companies like Louis Vuitton are trying to catch counterfeiters. However, paying to expose the criminals and pursue them in court is expensive. Designers have no choice but to pay these costs, and in turn, this further raises the price of their products.

Buying a fake bag also comes with the guarantee that you'll have to replace it fairly soon. Knockoff bags are not only sold at a fraction of the cost, but are also a fraction of the quality. A genuine Coach bag comes with a lifetime warranty. If a clasp breaks or stitching comes undone, Coach's policy states that the bag will be fixed or ­replaced for the cost of shipping and handling. As a consumer, a real designer bag should be viewed as an investment. Fake bags come with absolutely no warranty. If it falls apart after one use, you've just wasted your money.

Instead of buying a fake or saving up for the real thing, there are other options. Stores like Target are collaborating with designers like Carlos Falchi to help blend affordability and fashion. Falchi's bags, which can retail for up to $4,000, have been redesigned to feature faux snakeskin and new textures. Though some may argue they're not as glamorous, they're certainly a bargain. The collection is a limited edition, but the idea is growing. Walmart and Kohl's have unveiled similar collaborations, proving
that style doesn't have to be sacrificed
for price.

However, counterfeiting is an ongoing problem. Though illegal in the government's eyes, the estimated number of fake bags purchased each year continues to increased. The easiest way to stop this is simply not to buy knockoffs. Be sure to buy directly from the manufacturer's store or website, or from an authorized seller. Beware of Internet deals that offer prices too good to be true – this is a sure sign that the bags aren't real.

If you really must have the newest Coach purse, try saving your money. You'll get a bag that will last a lifetime as well as the satisfaction of knowing that your money is going to reputable hands.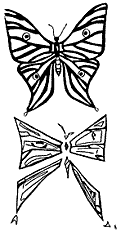 © Megan G., Aberdeen, SD