THH: The Disney Channel Game
June 27, 2014
Disney Channel? Pffff, been there, done that. But before you turn away from this page, I offer critique over the show's ups and downs.

Once upon a time there was a Disney Channel. April 18, 1983, actually, to be specific, and then it was populated with the odd Mary Poppins clips, Disney World premiers, little kids holding badges and a few Tink flourishes. Now, we know it to be one of silly (often cheap) laughs, big singer-kid celebs like Selena Gomez, Ross Lynch, Dove Cameron, present day teen sticky predicaments, and sometimes almost too-good-to-be-stinking-true resolution in the end.
(Not to mention Disney XD, sporting stars from February 13, 2009, its not to be forgotten little brother of action-themed shows.)

And it is present day Disney Channel I take my stance in review.

"Oh, so you think Disney Channel is phony too?" Actually, no, I like watching it. Fun, really. You're alone on that one. "So why the heck are you critiquing a show you LIKE? Dude, get with the program!"

Ma'am, YOU get with the program. Why else would I take tiiiiime to write a three-some-page-Word document at 9:11 pm at night? Why else does anyone write a review?: In either the pursuit of love of despise. And here, 'phony' doesn't hold enough weight. It can be part of the weight—but it's not exactly enough.

So let's kick off with the physicals. Disney does a fantastic job of keeping a variety, at least in my opinion, with the short and the skinny and lazy and the nasty and outright audacious. But here's a pattern I've noticed.

Disney promotes different races as a world of one. It's really an inspiring thing as they show people that yes, different races can bend forwards and backwards to date each other, or just become friends. Can I hear a hoot for dear ole Fletcher McQuimby and his obsessive Chyna ("A.N.T. Farm")? Our dear Alex Russo avec our British Mason ("Wizards of Waverly Place")? Li'l Gabe Duncan and his Lauren ("Good Luck Charlie")? Tyler and his beloved BMX biker girl Emily ("Dog With A Blog")?

But here's the process I see repeating again and again. First it's made clear the couple has officially been established, and then they undergo the particular, often funny, relationship they happen to have. But then the often brief coupling is broken up through selective reasons, and whoever is the main character will carry on bravely. And almost ALWAYS hook up again with someone of their same ethnicity.

Fletcher got over Chyna? It's now down to Olive for luuuuv. Alex mows down the row of boyfriends. Tyler and Emily fall to the floor, well, there's always Nikki Ortiz next door.
But I did say 'almost always,' didn't I? Because "Good Luck Charlie" has ended, and G+L stay as one, and so far "Mighty Med"s Oliver and Skylar Storm haven't hitched up any problems (nor hitched up at all, for that matter). It's just happened repeatedly, and I thought I may have a word with it.

Moving forward, troops!
Another thing with Disney Channel is the predictability in shows. They once showcased the "WHAT the WHAT Weekend" with lots of stars crossing over to other shows. (Ahem, Mad Mack was amazing. And so was Laura Marano on "Liv and Maddie"! Seriously!) But…well…it's becomingly increasingly obvious Disney keeps to their one pool of actors. "Mighty Med"s stars have sprung from "Good Luck Charlie" and "A.N.T. Farm" rockers Bradley Steven Perry and Jake Short, right? Who played Lindy Watson on the latest "I Didn't Do It," oh yes, it was "Kickin' It"s Olivia Holt (who I love, by the way). And even lots of the minor side character flings have sprung from a relatively conservative pool as well.

And that goes further. Lots of episodes nowadays have become duplicates of themselves—as "Liv and Maddie"s breakthrough technologies allow for one to have multiples of oneself en telly, it's just been…well, everywhere. "Jessie," episode 'Grudgement Day'? 'Copy Kaz'? In fact, I initially thought Clyde and Wallace (from "Mighty Med") were just copies of one extraordinarily well-timed actor.

Also, precedents have begun to show up. Surely producers who keep an eye of all these moneyed and money-like have seen the hits of "The Suite Life of Zack and Cody," and also "Shake It Up," which features a powerhouse duo in the center as well. So we add in "Liv and Maddie," which stars a blonde set of twins as well, one with a large-as-life personality (like Zack) and the other who is relatively more lay-down (like Cody). (Not to mention how twins have started to take over television, to the extent where "I Didn't Do It" also resorts to twins as the main characters) But let's not forget what a hit "Good Luck Charlie" was as well—so, of course, we'll also showcase the new "Liv and Maddie" sitcom about one rowdy, craaaaazy family. Because that always works.

Maybe none of this stuff is actually done on purpose: different people are in charge of different shows in this whole shenanigan. However, it kind of loses the ole Disney magic when you start to trace the thread. You start to wonder, "Is this really for the money?" Because the original Disney wasn't meant to be, at all.

And here's where I'm wrong:
Disney still does try to break the shell in 21st century culture. The fact that they even have people dating other ethnicities is freakishly rare enough, people! And let's not all forget the petite scandal of Good Luck Charlie, wherein a lesbian couple is featured in season 4—something that shocked (and glorified) watchers alike. And as for repeating trends and a sometimes conserved circle of actors…Disney could just be listening to what fans demand.

So, all ye Disney watchers out there, be it Channel or XD, please voice your opinions—as I'd be glad to hear 'em—below on what you think of Disney nowadays. Getting better? Or worse? Or perhaps we're just fine the way it is?

And thee other Disney Channel/XD fans, I call ye out! Perhaps we can start a Teen Ink rebellion…*evil face and emits a trembling, evil laugh.*

No? No!

Fiiiiiiiine.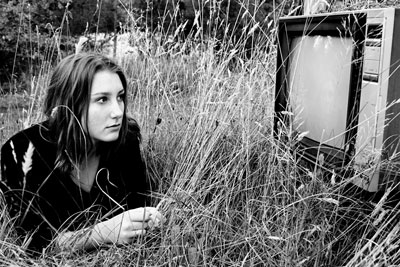 © Garrett M., Port Angeles, WA