Violent Media Empowers Children & Teens
October 14, 2013
Parents are constantly warned by psychologists, the news, and teachers that violent media causes children to become more aggressive. Violent media includes but is not limited to television, comic books, music, and video games. People often attribute this aggression with the recent spike in public mass shootings in the United States.
Despite the recent burst in public shootings reported in the news, there is not any basis for claiming an increased trend in mass shootings. This is because public mass shootings are so rare that there is often a short spike every few years versus an increased trend over a period of decades. In reality, mass shootings have been at about the same level as they always have been. In fact, more people are killed each year as a result of texting and driving.
So what causes people to instantly blame violent video games and movies? According to Aimee Tompkins's article "The Psychological Effects of Violent Media on Children," there is three problems that violent media can cause. It may make young children fearful of the world, more likely to behave hostile toward others, or desensitize them.
While a child becoming fearful of the world may seem like a negative outcome, it could also be seen as rather beneficial. The child would become more cautious and alert with his or her surroundings. In a way, this growing awareness of evil could actually keep them safe.
Imitative aggression was demonstrated by a famous psychologist named Albert Bandura. He predicted that a child imitates what he or she sees and in his experiment, young children that were shown violence were much more likely to play roughly with their toys. Does this mean children should stay away from comic books and superhero movies? Probably not.
The problem with Albert Bandura's experiment is that the children were only observed shortly after being exposed to violent behavior. This means that only the short term effects were documented. Also, age is also an important factor; a child under 7 years of age is usually still learning the difference between right and wrong.
By adolescence, a person should have learned what is real and what is not. A child of around only 3 years, however, may experience a significant change in behavior while growing up if exposed to extreme violence long enough. This is because at a very young age, they would probably grow up thinking violence is okay and that it has no real consequences. Therefore, children should be educated by parents or guardians that real life decisions have real life consequences.
While an excessively violent video game isn't necessarily harmless to a developing individual, it isn't a danger to society either. The real threat to humanity is irresponsible parenting. A parent or guardian should limit their child's amount of exposure to any form of violence. However, it shouldn't be eliminated entirely. Trying to protect children from violence on television can actually shelter them from the real world. Moreover, moderately violent media can be perfectly normal and healthy in empowering a young individual to become more confident and assertive.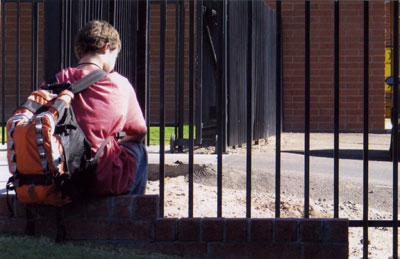 © Molly L., Phoenix, AZ