Lana Del Rey: Part Two
May 30, 2013
I recently became very interested in the singer/songwriter Lana Del Rey and have grown to really enjoy her music, however, I will try to be objective in this article, as I am trying to convey one point.
I honestly don't know why people hate her so much. I understand that you just might not like her music, that happens to everyone, I don't like Justin Bieber and Selena Gomez and One Direction, but it seems very extreme and frankly quite cruel to tell someone to kill themselves, to take their own lives, their past, their future, everything, just because you don't like their work. Just imagine what it must be like to be told that by another human being, how much that much hurt, how it would make you feel like nothing. That's the trouble, so many don't think about it, they don't think about the consequences. So I have a message for anyone out there who would or has ever told someone to kill themselves, whether it be to Lana Del Rey or a classmate or a friend. Please, just think. Be thoughtful, be insightful, and maybe you will see beyond your judgmental eyes.
Okay, time for my non- objective time. If you don't like Lana Del Rey and you never will, I highly suggest you stop reading at this point, because this is my non held back opinion of Lana Del Rey.
I absolutely love her. People say she's fake, because she wears plastic nails and had plastic surgery, but, if you can see past what is right in front of your eyes you can see that she is perfectly, amazingly real. She is the first singer I have ever known who has been able to intertwine their music around my heart, around my mind. Her songs are so painfully real and yet have a mythical air about them that makes them so very beautiful, and they make me feel emotion, real emotion. They make me cry and hope and dream and push myself to be the most beautiful person I can be. Added to this, she has an amazing, voice that many scorn because it's not what you normally hear, it's deep and husky, yet smooth, smoother than the flowing blue velvet she sings of. It's sultry and vintage sounding, and is truly something wonderful and unique.
Her music allows me to tap into the deepest parts of myself, places I didn't even know were there. Her songs allow me to find freedom in myself.
Thanks, reader, for, well, reading. It's been a pleasure.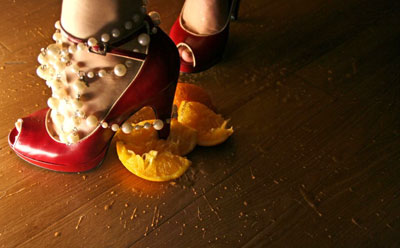 © Amber L., Carpinteria, CA