Unconditionally
June 10, 2015
Dear The One Who Will Not Listen,
There are many things that I would like to say in this letter that I can't.
For instance, love is a powerful word. It has many different meanings to many different people.
Between a husband and a wife, love is the thing that brought them together, and keeps them together.
Between teenagers, love is merely the word that two people who have been together a long time say, because their feelings for each other are stronger than the word 'like.'
Between family, love is what holds us close and provides us with a sense of happiness when we are all together.
Between friends, love is the bond that grows stronger every time you get to know someone better, and connect with them on a deeper level.
See how love has a different meaning for all relationships?
Now, I bet you are going to notice that I left out one, probably the most important type of love.
The love between a parent and a child.
Love between a parent and his/her child should be unconditional. No matter what the child does wrong, right, good, or bad, parents should always love their kids unconditionally. It means that the parent will always care for his/her child. That guidance in the right direction will always be there. That when a child needs comforting, there will be comfort. When a child needs someone to talk to, that parent will ALWAYS be there to talk to and give advice no matter what.
But most importantly, that a mother or father will forever defend and be there for his/her kid no matter what the circumstances are, no matter what compromise it means for them, and no matter how hard it is to let go of anything that may be holding him/her back from doing just that. From being there for his/her child.
Whether it's a mother-son, father-son, mother- daughter, or father-daughter relationship, the one thing that will always ensure trust and unconditional love within the relationship is to simply defend and be there for the child.
It's no simpler and no harder than just being there for the child when he/she needs his/her parent the most.
That is what I cannot say in this letter. I cannot say it because the meaning behind it is too vague. It's too vague for you to understand.
Sincerely,
The One Who Cannot Say.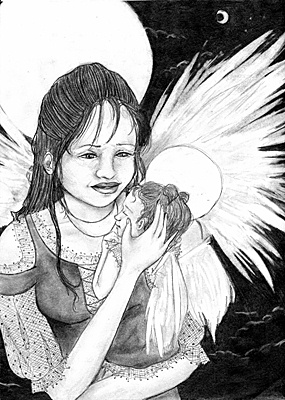 © Danielle S., Buffalo, MN