Friends
January 2, 2015
A single rose can be my garden……a single friend my world... That indeed is the truth. Friends are an integral part of our lives. We spend nearly half our time in the company of our friends…..at school, at home or at work, friends are everywhere……the only thing that remains is find them. There are many who claim to be our friends in times of happiness but walk out when the going gets hard. A true friend is someone who walks in…. when the rest of the world walks out. They show their love not in times of happiness but in times of sorrow…..They are people with whom we can share all our secrets, joys and sorrows…They are often the pillars of our success, raising us high on their shoulders, encouraging us to move on… continue our journey when the rest of the world tells us to stop. They are people who never live in a delusion about what you are….they know… and they love you for it….

"Friendship has no survival value; rather it is one of those things which give value to survival"…..Friends are the people who make school exciting and work worthwhile. They never let us hang around with sad faces, cracking jokes when they see us depressed…..but at the same time they are amazingly sensitive and know when to leave us alone. Often in our lives do we come up against adversity and only then do we find out who are our true friends. True family isn't the one whose blood you share but for whom you care and who cares for you…..and in that regard friends are like our parents…. One loyal friend is worth more than a thousand blood relations…..all of them leave us some time or the other….but a true friend stays with us till the end of our journey. Some relatives may wish to harm you, enticed by greed or hate but a friend never wants something bad to happen to you because they are the only people who gain nothing by your death….. the moment you pass on, you create a gaping wound in their hearts……..from that moment onwards they continue with their lives because they have to… because they have others to live for, responsibilities to bear but rarely because they want to……They lose the only reminder of time gone by, the only link to their youth….

Often we make decisions that affect and hurt our closest friends…but they always forgive us, they bear no resentment nor any malice towards us…Friends often fight like cats and dogs but they never stay mad for long….they may get offended but a single "I am sorry" brings a smile to their lips…they may sometimes refuse to forgive you but later on….they themselves come to find you. You can't hide your feelings from them, they always know when something is wrong…and that is when true friendship comes out.

Losing a friend is just like losing your family…It is the worst thing that can happen to someone. When we lose a friend, it seems as though living is not worthwhile….we sink into the depths of depression and feel that we are blundering around in the dark because a cloud consisting of darkness and despair has covered our world. We are unsure of what to do…where to go. Life seems like a nightmare. It seems unreal that we have now lost the only link our childhood. Memories flood our brain. Images of us laughing together, helping each other in exams, going for picnics, playing and quarrelling dance across our eyes….We start hearing his voice everywhere, rising above others…..calling out to us. We feel like ending it then and there but his memory restrains us…..we feel that he would like us to go on…Not a day goes by when we don't think of him and of all the time we spent together….We can't bear listening to the song that makes us think of him…..Earlier we used to love having fun…..but now we just can't stand the idea… We curse life for being unfair and taking our best companion away from us. But we have to move on…and slowly in the humdrum affairs of daily life…we start to forget but every now and then there is something that brings back old memories….and there is a sudden rush of tears to our eyes and as the startled bystander asks "Sir, are you okay?', we rub our eyes and reply "Yes I am fine. It's just the Sun, it's rather bright today, isn't it? Made my eyes water when I looked at it"……..We force ourselves to forget.

"Whoever said that loss gets easier with time was a liar. Here's what really happens: The spaces between the times you miss them grow longer. Then, when you do remember to miss them again, it's still with a stabbing pain to the heart. And you have guilt…. guilt because it's been too long since you missed them last." Death of a friend leaves a heartache no one can heal and love leaves a memory no one can steal…..We never understand the value of our loved ones as long as they are there…..it is only when they aren't, that we realize how much we loved them. Learn the value of your friends and be grateful to them for what they do for you everyday of your life…..Try to repay them as much as you can. Never cast aside their warnings nor do what they tell you not to….because they always want what's best for you. And at the end of the day….it is not the words of our enemies that we remember……it is the silence of our friends…………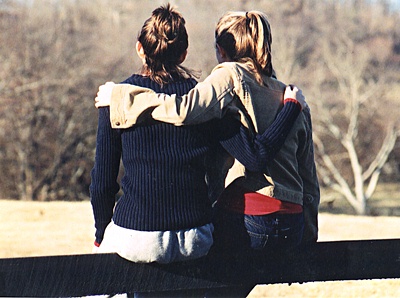 © Jaime M., Wichita Falls, TX