Saturday, September 28, 2013 2:03 pm
May 3, 2014
There's six bruises on me. One on each leg. One on both sides of my stomach. One on each arm.
It looks like I got beat up.

I'm at a car wash. Support Band, the signs say.

Let the storm come so we can go home, I say.

The saxophones and trombones are working at Fuzzy's. Cars keep coming, I keep drying.

Ethan comes. Even though I specifically signed up for the day he didn't.
Then Ethan's dad comes. And I hide in plain sight.

The car wash is over. Most of the trombones left to go to Matt's dad's funeral. Nobody told me about it. Oh well.

They want to do a group picture of saxophones. There's only me and Kyle left from the trombones.

Ramon tells me that I can be in the picture, too. He puts me right in front and kneels down next to me.

He's actually pretty nice.

I think he feels sorry for me.

We're about to leave and Ramon says, 'thanks for helping.' What isn't said is passed between the look in his eyes.

Craft fair. Tons of jewelry. Little beads of all colors and sizes. Stones, wood, plastic, glass, fabric. Angela oo's and aah's over everything.

It's beautiful.

I go home. Take a 2 minute shower. Grab a frosted oatmeal cookie Z Bar. Eat it as I drive with one hand while its pouring down rain so hard that my windshield wipers gave up.

I have to get to Carly's volleyball game.

There's no place to park at Marcus. Anywhere.

So I go all the way by the stadium. Run all the way to the gyms in rain that I can't see through. My shower was pointless, getting my car washed was pointless. I'm soaking wet and the two dollars I pay for a ticket are damp.

I run to all the gyms. I can't find Carly. My dad is texting me.

Come out in the hall.

I am in the hall.

Makenna. Where are we?

The A team is at Flower Mound.

Silence. Then,
Are you freaking kidding me.

I walk back to my truck. I don't run. I let everything get completely soaked. I don't go to Flower Mound. I don't go get food. I don't do anything.

I go home.

Front door. Fumble for the keys, drop the Z Bar wrapper. I'm on my period and I'm soaked through with rain. Not a good thing.

Take off my fake leather shoes. Turn on my fan. Sit down. Six bruises. Six bruises and they hurt so much.

I try not to cry.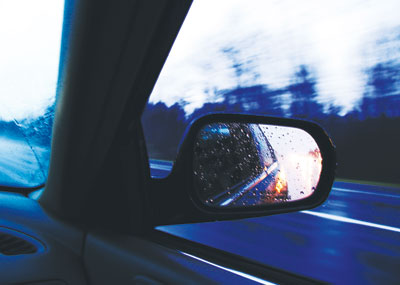 © Raine E., New York, NY